READY FOR A UNIQUE FLORIDA GOLF EXPERIENCE?
COME PLAY CYPRESS CREEK GOLF CLUB
"I feel like I'm in North Carolina." We've heard a player now and again coming off Eighteen comment that rounds here are so much more than your typical Florida golf experience. So much better. Chalk it up to the 604-acre cypress preserve we're nestled in to. And the built-in undulation. Features you don't typically find on a Florida golf course.
WELCOME TO THE CYPRESS CREEK DIFFERENCE. MAKE THAT DIFFERENCE, PLURAL!
Also, we're unique when you think of Florida golf, in that we don't have pool screens on every hole. Homes come into play on only four or five holes . Once you're off and into the heart of the course, you'll realize the immersion into the "preserve effect" that golfers here cherish. As the majority of the course weaves through a wildlife preserve, you'll fall for our natural, down-to-the-core golf.
CONDITIONS ARE PRETTY CONSISTENT (CONSISTENTLY GREAT!) THROUGHOUT THE YEAR.
"We try to keep the course firm and fast. But with Florida, summer always brings rain that slows down play at most courses."
As this is an extremely challenging course, Kevin says, " … more often than not, we have people begin a round on the back tees and move forward." So feel free. With water on 14 holes , "we see a lot of golfers re-stock on balls at the turn!'
"OUR PAR-5 14TH HOLE HAS BEEN NOTED FOR BEING "ONE OF THE BEST DRIVING HOLES IN TAMPA BAY. THIRTEEN IS OUR SIGNATURE HOLE, A 160-YARD, PAR-3 OVER WATER WITH A POSTAGE STAMP GREEN."
There's really no easy way to get into your round; the second hole is probably the most difficult, with water all the way down the right side. It's 432 yards uphill and usually plays into a wind, with a demanding green.
16, 17 AND 18 ARE A TOUGH FINISH
"If you can finish strong on these holes, than you can go home feeling pretty good about yourself!"
Check out an online tour of Cypress Creek, compliments of TampaBay.com.
GRASS
In 2016 the course underwent an extensive renovation to our greens and tee boxes with Champion Bermuda grass put onto the greens. This is the absolute very best strand of Bermuda for putting greens and the only Bermuda grass to ever host a PGA Tour Major Championship. With the addition of Champion greens there is no longer a need to overseed which in turn leads to healthier and faster greens year around.
| | Rating | Slope |
| --- | --- | --- |
| Championship | 73 | 134 |
| Men's White | 69.2 | 127 |
| Women's | 67.9 | 117 |
We have six sets of tees total.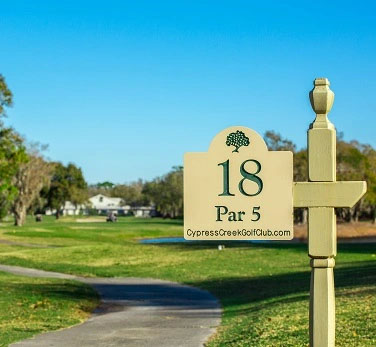 Course Tour